Update Galaxy Tab 8.9 P7300 with Official XXLQD Android 4.0.4 ICS Firmware
It's official: there's a new tool with which you can easily install official XXLQD Android 4.0.4 ICS firmware on your Samsung Galaxy Tab 8.9 P7300. Our tutorial includes this tool, as well as a couple requirements and all the steps needed for its success. The guide is going to use Odin for its purpose. You can either get this update via Kies Software or manually. The XXLQD was first released this February.
Be careful of the following: the tool we are using will make sure that the tablet no longer accepts root access. To regain the latter, you need to unroot the Galaxy Tab 8.9 GT-P7300.
Requirements
But first, be prepared for the pre-requisites we mentioned in the beginning of our post. Go and download and Odin tool 3.07 on your laptop. Then charge the battery of the Galaxy Tab 8.9 P7300 and create a backup (this one should include everything that your device will need after the procedure is over).
Next up: download (because it will help you install the appropriate drivers for this gadget). Last requirement: go to the device's Settings, choose Developer options and then enable an option called USB debugging.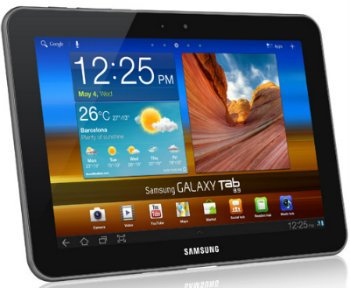 You are all set now for the part where we introduce the steps needed for a well-done tutorial.
Important instructions
The first step towards that goal begins with the following recommendation: after the XXLQD Android 4.0.4 firmware and the Odin are installed on your comp, you need to go to each of them and extract their content to the same computer, too.
See if you notice a file called .tar and one named Odin3 v3.07.exe. Now turn the tablet off, boot it into Download Mode and plug the gadget to your laptop; to enter the Galaxy Tab 8.9 P7300 into that mode, you have to select and keep pressed, at the same time, the following keys: Home, Volume Up and Power. After that, wait for the gadget to turn on and, when it does, press Volume Up. That's it, the device is now in Download Mode.
Step three will ask you this: after the devices have been connected to each other, you should see an ID:COM area become yellow and then a message reading "Added" (if this doesn't happen: install the drivers again).
[sc name="banner-jos"]Then you need to move to the fourth step telling you to locate the PDA key and click on it while you are still in Odin. Then go to the .tar file and opt for it.
Now do as step number five instructs you to: check F. Reset Time and Auto Reboot if neither of them is selected; deselect Repartition if you see that it's checked.
For the next step, the sixth, you need to click on Start. This action will signal the installation of the firmware on your Wait for "PASS" to appear on its display, then unplug the Tab 8.9 P7300 from your laptop. The former is going to boot on its own. Go to the "About tablet" and look around for the XXLQD Android 4.0.4 ICS firmware. After you see it's there, you can breathe easily and try it out!