How to Update Galaxy Tab 4 10.1 SM-T530 to KitKat 4.4.2 XXU1ANF2
Galaxy Tab 4 10.1 (WiFi) SM-T530 will be better of with an update than without it. Providing help for this procedure is some new firmware we came across recently. Try it out below!
You can do a lot of things when you have an updated device. For example, you'll get free access to new apps. This and more is offered by this particular tool: Android 4.4.2 XXU1ANF2. The name of the firmware should indicate that you need a new KitKat version on your tablet.
If there's such an OS variant there, make sure you only use the Galaxy Tab 4 10.1 SM-T530 with today's upgrade method. This official tool will surely affect a different model if flashed on it.
The novelties
Spain is the country which first sees this update firmware. Released this June, the Android 4.4.2 XXU1ANF2 contains the best tools to customize and improve your gadget. Some of these are as follows: new features and battery improvement via tweaks. There is also the addition of new apps.
If you want to get an update with the KIES method, the new firmware has an activated KIES logo for you to use. This requires the presence of stock ROM on the tablet. If, however, you don't have that, you can turn to our guide.
If your device has root access and you wish to update it, you need to be aware that certain disadvantages come with that. Such a con is the deletion of system partition. Your tablet will afterwards have no root access anymore. Things such as internal / external SD cards will be spared. Nothing will happen to the important data, either.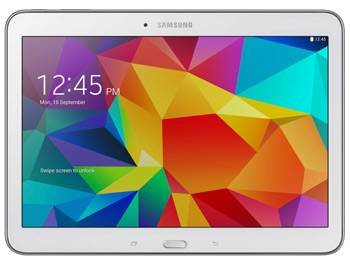 Prerequisites
To update your Samsung SM-T530, you'd better do this next:
Step by step instructions
If you are now done with our requirements, prepare for the steps that'll bring the official upgrade firmware on your tablet.
First stop: have Odin v3.09 downloaded on the laptop. Once its download is done, extract it. Now download the and unzip it, too. These packages can be unzipped with one of these: WinRar or 7Zip.
Wait for this file to appear after the extraction: Odin v3.09.exe. After you launch it on the notebook, enter the tablet in Download Mode.
For this, press and hold Home, Power and Volume Down simultaneously and do it till you see a boot message; press Volume Up when it does. Be sure to plug, next, the tablet to the laptop; this is the job of your gadget's USB cable.
After the latter establishes a connection, Odin is going to come back with a blue sign. Once the two devices are connected to one another, add the firmware file to AP / PDA.
You'll soon spot certain boxes. Among them are Auto Reboot, which has to be turned on, and F. Reset Time; the latter will also have to be activated. A third box, called Re-partition, must be turned off.
When finished, tap "Start". This will initiate the flashing of the new firmware. Wait for about 13 minutes; repeat the tutorial in case you have to wait more than 15 minutes.
Time to look at your tablet's touchscreen. If a "Pass" message is displayed there in green, your device should begin to reboot. If it restarts successfully, you can now unplug the Samsung SM-T530 from your laptop.
[sc name="banner-jos"]Only way to disconnect the two is this: remove the USB cord from before. You can now begin the discovery of your updated device.
Tap Settings first, then be sure to find About Tablet. When you spot it, tap it. After launching the firmware, go and experiment with all the new apps, features, customize the tablet and so on!
In case you don't want the new firmware anymore, the old ROM will come back to your tablet if you want it to. The quickest method for this: via the NANDroid backup file. But this has a disadvantage: you will lose the update.
For questions there's always the comment box below.