How to Update Galaxy Tab 3 10.1 GT-P5210 to KitKat 4.4.2 XXUBNH1
Galaxy Tab 3 10.1 (Wi-Fi) GT-P5210 will experience what it's like to be upgraded. Once this model is presented to Android 4.4.2 KitKat XXUBNH1, its performance, looks and feel will be greatly improved. If that is OK with you, go ahead and give this guide a shot!
Launched for Canada this month, this new official firmware is equipped with an activated KIES logo. This should tell you that the KIES software courtesy of Samsung is available as a valid update option. If you want to try this method out, do so; but only if you have a tablet with stock ROM.
The benefits of this official firmware
A tablet with an update firmware on it leaves no room for boredom. Upgrading the gadget allows its owner to use it without worrying about bloatware or security problems. But if your gadget is not the Galaxy Tab 3 10.1 P5210, you need to stop here and look for a different guide meant for your device.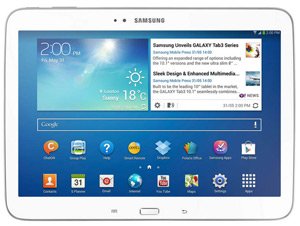 The latest firmware to be available for your tablet is ingrained with new stuff. And there's lots of it. First, the tablet will have an improved CPU; the speeds the latter shall deliver will be vastly superior to what you were used to. An update brings much-needed stuff such as new features. A series of customization options are also there for you to discover. The battery life displayed by your tablet won't be as poor as before. If you update the tablet, you will get to install new apps, too!
When you apply today's guide on a rooted Galaxy Tab 3 10.1 GT-P5210, you will have to let certain things go. Which are as follows: system partition and root access. Fortunately, all of your tablet's data will stay intact. The gadget will not say goodbye to its important internal and external SD cards, either.
Prerequisites
We are now going to help you prepare the device for an update. This is why we have the following requirements lined up:
the important data kept inside your Galaxy Tab 3 10.1 WiFi GT-P5210 needs to be backed up;
go and make sure you perform a full NANDroid backup;
instead of using any other OS version, Windows should be the one running on your laptop;
USB Debugging has to be enabled on the tablet;
a fully charged tablet is what you need in order to go through the guide well;
the laptop you use with our guide needs to run with its security programs disabled;
same will have to happen with the tablet's security programs;
install, from here on your laptop, USB drivers that work only with your Samsung GT-P5210.
Step by step instructions
Our upgrade tutorial is now ready to begin. Follow the upcoming steps and you'll have the Android 4.4.2 XXUBNH1 installed and ready to go in no time!
The for Canada and Odin v3.09 are the 2 packages which should be downloaded on your laptop. You should have them both unzipped with one of these options: WinRar or WinZip. When the unzipping is complete, you have to find Odin v3.09.exe and open it on the laptop.
Then enter the tablet in Download Mode. This is how the action in this step should go: press and hold Home, Power and Volume Down simultaneously until the screen contains a boot message; after that, press Volume Up.
Your tablet's USB cord will be necessary for this step. The latter goes like this: connect, with that cord, the tablet to your laptop.
Odin will reveal a sign in blue afterwards. Which means the following: your devices are connected. As soon as it is, you need to add the firmware file to AP / PDA.
Next, tick two boxes: F. Reset Time and then Auto Reboot. There is another box that requires your attention: Re-partition. But, compared to the other two, this box must be unchecked.
You have an option called "Start". To begin the upgrade process, this option has to be tapped. Once you're greeted by a message saying "Pass", the tablet will reboot.
[sc name="banner-jos"]You need to do this now: remove the USB cable. With that out of the way, your devices will be disconnected from one another.
If the products have escaped the plugging, you should start the goodies and play with them. But first, tap Settings and after that tap About Phone. This is how the new firmware will be revealed.
If you don't enjoy what the upgrade's all about, restore your phone's old ROM with help from this: the NANDroid backup file. The upgrade is going to be revoked once you decide on this course of action.
Try our comment section below if you are in any sort of trouble during the guide.