Update Galaxy Tab 2 10.1 P5110 to Jelly Bean 4.1.2 Ripper Custom ROM
Samsung Galaxy Tab 2 10.1 P5110 fans, this post is for you. We are this close to sharing info on how to update your tablet to Android 4.1.2 Jelly Bean with a little something penned as Ripper ROM custom firmware. It may have a spooky name, but it does wonders on your gadget.
According to its creator, this tool features all sorts of goodies, one of the most important ones being a ripple lock technology for the tablet's display. Other great features are as follows: root, 4-way reboot, busybox, new symbols for the keyboard, Flash player, pop up browser and so on and so forth (we'll let the rest come as a surprise).
Requirements
What you should take care of now are some pre-requisites without which you couldn't experience the awesomeness of the Ripper ROM we hand-picked for you. Here they are: root the tablet if it's not (and don't forget that it also needs either TWRP of CWM Recovery), charge its battery, never forget to get the correct USB Drivers for this gadget on your comp, also don't forget to create a backup of everything important on the Galaxy Tab 2 10.1 GT-P5110, check if the device is factory unlocked or not (only use the factory unlocked model for our guide) and turn on USB debugging on the gadget.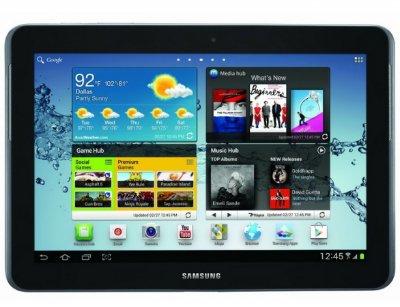 After being done with these requirements, our next stop is this: go and follow all of the steps that we present below. They are not many, but each of them is of equal importance.
Important instructions
So here you go: download, for the first step, on your laptop.
Should you be done with the previous action, then perform the following ones which are part of step two: plug the tablet to your comp, then move the Android 4.1.2 ROM archive from its location to the memory card root of the Galaxy Tab 2 10.1 P5110.
Continue this tutorial with step number three, which urges you to power the GT-P5110 off.
Step four will recommend the following actions: unplug the devices from each other and then turn the tablet on while pressing + holding Power and Volume Down.
After the gadget is in Recovery Mode, you will need to choose the following options: Factory reset/Wipe data and then Wipe Cache Partition by pressing Power.
In step six you need to start a full wipe of the tablet's Dalvik cache, which can be done like this: go to Advanced when you are in the recovery mode and opt for Wipe Dalvik Cache.
[sc name="banner-jos"]For the seventh step you are told to choose the installation from the memory card from the main recovery screen and to opt for Choose zip from SD card.
Step number eight sounds in the following way: choose the Android 4.1.2 ROM zip file from its place, then choose it via Power.
Confirm the flashing of the custom firmware, then wait for it to be over after a couple of minutes. As soon as it ends, go to +++++Go Back+++++.
Step ten will ask you to go to the tablet's recovery menu and reboot the Galaxy Tab 2 10.1 P5110 by opting for the system restarting.
The gadget is now running the Android Jelly Bean 4.1.2 operating system.