How to Update Galaxy Star Pro GT-S7262 to Jelly Bean 4.1.2 XXUAND5
Galaxy Star Pro GT-S7262 will end up with special firmware if you apply an update procedure. What firmware to use and how to flash it will be discussed today.
The most important thing to know before updating your phone: use the correct model. If you don't use the right one, the device is sure to be damaged. Only install Jelly Bean 4.1.2 XXUAND5 on your phone. This firmware came out this month for Indian users of the Samsung S7262.
The improvements
This firmware makes sure you enjoy all the benefits of an updated Android OS. They imply stuff such as a new keyboard and Google Now. Along with them, your device will be using mini apps, triple buffering as well as group cast. The upgrade's other goodies are free style widget, all share and also pop up play.
Another great set of additions is coming up next. It's made of an automatic adjustment for the size of widgets and a fixed frame of 60 fps. Extended Vsync timing and touch anticipation make things better, too. As does sync and connect email updates. If this list of novelties and the one above impress you, you can grab a hold of them even if your phone is rooted. However, the update will delete system partition and revoke root access.
Not to worry: the handset will come out of this with intact data and internal / external SD cards. Moreover, you will be able to update the phone with the method known as over-the-air (OTA). This alternative to KIES has to be performed only in case your smartphone uses stock ROM. If your Galaxy Star Pro GT-S7262 doesn't, our guide will work just fine.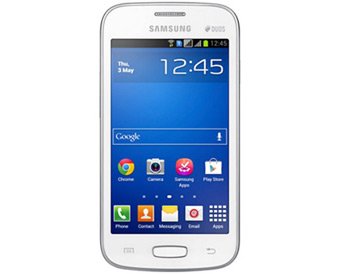 Prerequisites
It's best to perform these requirements:
make sure the handset's data is saved through backups;
a full NANDroid backup is also recommended, so generate one after the regular backup is created;
in case the device is running low on battery, charge it;
disable the security programs your Galaxy Star Pro S7262 uses;
disable the ones used by your notebook;
your notebook should use Windows;
install USB drivers for your phone on the laptop;
USB Debugging must be activated on your handset.
Step by step instructions
And now for the steps your phone has to go through before landing the updated Jelly Bean.
You must get your laptop ready for Odin v3.09 (available here) and the . Once the device has these downloaded on it, make sure each of the packages is also saved there. The unzipping of these files will require you to use WinZip.
The laptop has to run with an open Odin v3.09.exe, so be sure to launch this particular file there. Once you're done, press and hold Home, Power and Volume Down together till the screen contains a boot message; Volume Up must now be pressed instead and your phone will end up in Download Mode.
For this step, your handset's USB cable needs to be prepared. This cord will ensure a connection between the Galaxy Star Pro GT-S7262. After one is established, time for Odin to show up with a blue sign.
The next step: add the firmware file to the AP / PDA. If Re-partition appears already checked, you have to do this: uncheck it and activate Auto Reboot. F. Reset is the second box you'll be required to check.
Go to "Start", tap this particular option, then be sure to wait a short while. The XXUAND5 is now in installation mode. This will go on for around 13 minutes (15 minutes at the most).
But don't worry, the smartphone will alert you when the installation's done. For instance, the device is going to pop up a "Pass" message in a green background.
After showing up with this, the handset will reboot. This leaves you with the following action: unplug the phone from the laptop by making sure the USB cable isn't attached to your devices.
[sc name="banner-jos"]Once unplugged, the phone should be taken and Settings should be tapped on it. When done, tap About Phone, too.
If you have a NANDroid backup file performed, you can restore the old ROM on your handset. Once you decide to do this, your smartphone's update will be revoked. This solution should only be used when the new Android 4.1.2 variant isn't what you were looking for.
In case we didn't explain things properly, you can leave questions below.