How to update Galaxy S3 GT-I9300 to Android 4.3 UBUGML3
Galaxy S3 GT-I9300 has plenty of great stuff inside it. But they pale in comparison to what it can feature if an updated Android 4.3 ends up on it. To see what we mean, keep an eye on this guide!
Your smartphone will very soon have new things on it. They are all delivered by something called Android 4.3 Jelly Bean UBUGML3. This official firmware was recently unveiled for the following country and carrier: Mexico Telcel. You are dealing here with firmware that comes with a KIES logo that's fully enabled. With such info, you can rest assured that your device is able to use this method for an upgrade; but only should your phone sport stock ROM. In case this device doesn't, you can return to our tutorial and use it instead.
The improvements
Only the smartphone called Galaxy S3 I9300 sporting the Android 4.3 already can use the new firmware. If the latter's installed on a phone with another name, you'll end up with a damaged device.
If you update your device when it's in a rooted state, its system partition will be erased. Also, its root access will be revoked. These cons are the only ones your handset will experience. Important data and the phone's internal / external SD cards will remain safe and you'll be able to use them just as well as you currently do.
If you've always wanted new features, you can get them on your phone with this update. Also, your device will experience longer battery life and new apps. The update lets you do another important thing: personalize your handset via its customization tweaks. If previous updates brought some bugs with them, this one won't do the same.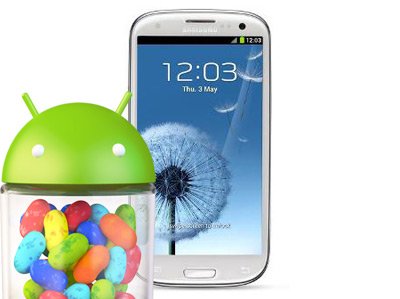 Prerequisites
We have several requirements to add here. They make sure your Galaxy S3 GT-I9300 is ready to be upgraded. These pre-requisites tell you the following:
in case you wish to have access to your device's important data, generate backups;
a full NANDroid backup is the next best thing to achieve;
charge the battery of your smartphone until you notice it's 100% full;
your notebook is required to feature USB drivers fit for the Galaxy S3 GT-I9300, so get them from here and then download them there;
the laptop you use for this update must only run Windows;
the handset's security programs must to be turned off;
disable the programs protecting your notebook from dangerous viruses;
USB Debugging has to be activated on the phone now.
Step by step instructions
When you're done with the actions previously mentioned, get ready for the real-deal: the update!
This first step needs you to download a few packages on the laptop. The first one to go: the . If this download is over, save the file on your laptop and extract it with WinZip. Your device also needs to have Odin 3.09, so download this one on the same laptop, too. After saving it, unzip it with the tool used previously. Odin v3.09.exe can now be launched on the laptop when the extraction is done.
The phone must now be restarted in Download Mode. Some actions need to happen here like this: press and hold Home, Power and Volume Down at the same time, look for a boot message to appear, then complete the booting by pressing Volume Up.
The next step to come up requires you to do this: ensure a connection between your laptop and your smartphone. The Odin will, after the phone's USB cable is used, look for the Galaxy S3 GT-I9300. When it's found it, a sign will come up in a blue color.
After finding out that your devices are connected to each other, your next task tells you to add the firmware file to AP / PDA. Once F. Reset Time is checked, you must uncheck Re-partition.
Check, next, this box: Auto Reboot. "Start" has to be tapped now. The phone is now ready for the flashing of the new UBUGML3 update file.
Should there be a "Pass" message in green on the display after 15 minutes, your device will have been upgraded!
[sc name="banner-jos"]Follow this up with the last step: unplug, by removing the USB cord, your handset from your laptop. Settings and afterwards About Phone can be tapped next. They will soon afterwards bring up the novelties of your device!
If there are problems with the new firmware or you miss its previous ROM, use the NANDroid backup file. We told you to create it previously. Its use, however, means this: the update process is revoked.
You can address your comments or questions below this post!