Update Galaxy Note N7000 to DXLSE Jelly Bean 4.1.2 Stock Firmware
Samsung Galaxy Note N7000 is here to represent another smartphone which has just received new firmware update. The latter goes by the name of DXLSE stock firmware and it is meant to get Android 4.1.2 Jelly Bean on your device. If you live in either Taiwan, Hong Kong or China, this tutorial is not for you. But you can find many guides online.
What you can expect from this firmware is Google Now, the ability to customize the notification panel, excellent stability coupled with excellent performance, Samsung's Cloud services and the list goes on.
Requirements
Our guide will now offer a variety of requirements which should be read before you attempt to follow our steps. To install the update safely, you have to install USB Drivers on your computer, turn on USB debugging, use a factory unlocked Galaxy Note GT-N7000, charge the battery that it sports and create backups using this guide. One risk that comes with such a procedure is this: you will no longer get to experience the phone's warranty unless you root it one more time. So once you are done with this guide, find one which will teach you how to do that.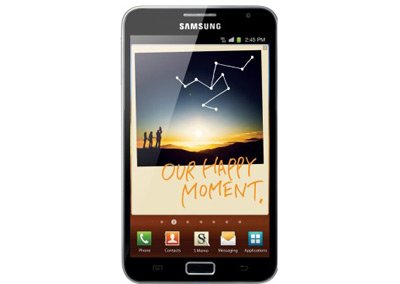 Important instructions
Your attention should now turn to the following steps. The first one brings these actions to be performed: download and Odin tool 1.85 on your comp.
Make sure that everything inside the first and the second archive gets extracted on the laptop's desktop, then turn the handset off to press + hold Volume Down and Home at the same time and then Power; when the smartphone features either Android's logo or Samsung's own logo, you will have reached Download Mode.
Step three will summon you to turn to your laptop.
Launch Odin on it, then plug the phone to it and wait for the two to have a successful connection (which will happen when you see that an ID:COM icon is yellow and a COM port number pops up). After that happens the way it should, you will need to choose a bunch of files as shown below:
– click on PDA and opt for a file which features CODE as part of its name;
– click on Phone and you are bound to see a file with MODEM in its name;
– after having clicked on CSC, a file with CSC in its name is going to pop on the screen;
– click on PIT; a .pit file should now appear.
Like we mentioned in other tutorials, there's no rule saying that all of these files must come on your gadget's display; if you see none of them, no problem, just don't do what we suggested.
[sc name="banner-jos"]Look for two options named F. Reset Time and Auto Reboot, then check them; you need to check Repartition, too, but only if you've spotted and chosen the .pit file.
Click on Start.
The firmware will begin to get installed on your Galaxy Note N7000. As soon as a couple of minutes pass, the flashing will have ended, so your next task will be to wait for the handset to restart.
Its home screen will also appears, meaning that you should disconnect it from your laptop. Now revel in all that your Galaxy Note N7000 can offer thanks to the new and shiny Android 4.1.2 OS.