How to Update Galaxy Grand 2 SM-G7105 to Android 4.3 XXUANA3
The time has come for Galaxy Grand 2 SM-G7105 to show what it's truly capable of. Only an upgrade will do that, so here's how to get it with XXUANA3, the latest official firmware to come out for France!
Today your smartphone will end up with Android 4.3 and the features it provides. But this guide is solely written for you and your Galaxy Grand 2 SM-G7105. Only this model will do; another one will end up bricked.
The new features you should expect to see on your handset are these: a complete lack of dangerous bugs, a new list of features as well as new apps, a great performance via a whole array of tweaks and various options, enhanced battery life thanks to numerous great tweaks and many varied customization options.
If you plan on updating the phone with KIES, consider using our guide or OTA: the KIES logo isn't enabled. For the OTA option, your device has to come with a stock ROM. If the Galaxy Grand 2 SM-G7105 has been rooted, you will discover that the update shall do the following: it will revoke that root access from your phone. Not only that, but the second disadvantage is this: your phone's system partition will be erased.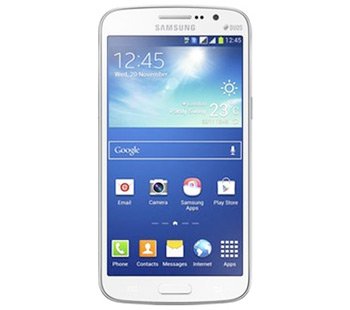 Requirements
The list containing this guide's requirements looks like this:
enable, on the handset, USB Debugging;
turn off the security software installed on the notebook;
disable the same on your smartphone;
Windows must the OS of choice on your notebook;
create a standard backup;
create a full NANDroid backup afterwards;
flash, on your laptop, the kind of USB drivers which must work with your smartphone;
fully charge the device's battery unit if there's need for that.
Step by step instructions
The way to have a good start with today's update is to download Odin from this page and the Jelly Bean 4.3 XXUANA3 official firmware (the France Orange variant is available ) on your laptop and then to unzip each of these packages on the same device with WinZip (or WinRar).
Then enter your smartphone in Download Mode by following these indications: press and hold Volume Down, Home and Power at the same time till you spot a boot screen, after which you can press Volume Up to end up in the mode your phone must be in.
Go to the Odin for the next step and, once you locate it, open it on the laptop as Admin. You will then be asked to do the following: plug, with the handset's USB cord, the Galaxy Grand 2 G7105 to your notebook. If a connection is established, you will be welcomed by a message saying "Added!!" and an ID:COM box colored in yellow.
If the two devices are not successfully connected to one another, you should try redoing this by way of one of these methods: resort to using another USB port or make sure the USB drivers are flashed again on your laptop.
After the plugging ends well, you can tap BL, select a file with BL in the name, click on AP, opt for a file with AP in the name, tap CP, opt for a file with CP in its name, tap CSC, choose a file which has CSC in the name, tap PIT and choose a file with an extension called .pit.
The next step that you should perform needs the following from you: check the boxes that are labelled Re-partition, F. Reset Time and Auto Reboot, after which click on "Start".
When done with this, the flashing of the new firmware is going to commence, so wait for its completion. After a few minutes of installation, the smartphone will restart on its own and a message reading "Pass" is going to pop up on the touchscreen.
[sc name="banner-jos"]The phone and your notebook can be disconnected from one another after the above happen. Your Galaxy Grand 2 SM-G7105 has just received its update, so see what it's all about (and if you enjoy the Jelly Bean 4.3 XXUANA3 stock firmware) by launching Settings and after that accessing About Phone.
When the new firmware is not at all what you expected and wanted it to be, the only solution is to restore the old ROM. The NANDroid backup file is what you have to use for that. In the process, the update will be revoked.
Below this post you'll come across a comment field. Use it to leave questions if something goes wrong.