Update Galaxy Express GT-I8730 to Android 4.1.2 XWAMH1 Official Firmware
If you want to be ahead of others who have Galaxy Express I8730 as their favorite smartphone, you should try updating it to Android 4.1.2 XWAMH1 official firmware. This procedure will make sure your device is truly even better than it currently is.
The October 2013-released Jelly Bean 4.1.2 XWAMH1 should only be a part of the Samsung GT-I8730 if you live in Spain (Orange) or France (Orange). Even if it was launched last month, this firmware does have an activated KIES logo, meaning that you can upgrade your phone using Samsung's KIES software. However, you can apply the upgrade via our guide if your device is running a custom ROM.
Should the handset feature root access, the latter will be revoked after you update it. All your important files will not suffer because of this; neither will the internal/external SD cards. But the phone's system partition will be deleted. If you cannot upgrade your handset via an OTA (with the Software Update button under Settings menu) method, this guide is just what you need.
After the smartphone is installed with the new firmware, you will be allowed to install new custom ROMs, use new features, use your phone for longer hours because of an improved battery life, experiment with new apps and so on. This new tool also has plenty of tweaks to help customize your I8730. The phone is going to deliver better speeds; and it will be more stable. These goodies will reveal themselves only if you have the phone model we indicated; if you use the guide on a different handset, the latter's firmware will be bricked.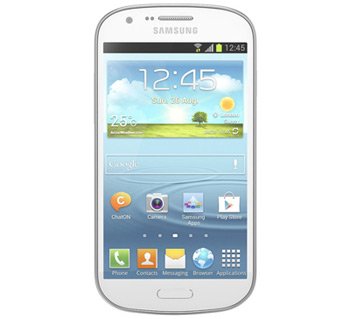 Requirements
Which leaves us with the next part that requires your attention: requirements. Here is a list which includes all of them:
download the new Jelly Bean stock firmware (the France version and the Spain version from ) and Odin tool from this location on your notebook;
which notebook or comp must have USB drivers for the phone installed on it and Windows as its OS;
charge the handset's battery should its charge levels be less than 50%;
turn on USB Debugging on the smartphone;
turn off security software running on the handset and the laptop;
make a regular backup and a full NANDroid one via this short tutorial;
keep close the USB cord which comes with the smartphone.
Instructions
From now on, the update steps will appear and you will know precisely how to upgrade your Galaxy Express I8730 to the Android 4.1.2 XWAMH1 official firmware.
After your laptop or comp is installed with the two packages you saw mentioned in our pre-requisites, we ask that you do this: unzip them both.
After their content is extracted on the laptop's desktop, you should go on by applying this task: make sure the phone is booted into Download Mode by pressing and holding, at the same time, Home + Power and Volume Down. Then press Volume up until you see the Android logo.
Now you can open the Odin. After you do that, you need to also make sure the two devices are connected to one another via the handset's USB cable.
Once you are done with that, you should wait a bit, because a yellow ID:COM box and a message saying "Added!!" will appear on the screen. This means that you can continue with the rest of the guide. However, if you see nothing of the sort, you need to solve this by either installing the USB drivers again or using a different USB port this time.
Here we are at another task. For this one you need to do the following: click on PDA, opt for a file that has CODE in the name, tap Phone, select a file with a MODEM in the name, click on CSC, opt for a file that should have CSC in its name, tap PIT and choose the file with .pit in the name.
[sc name="banner-jos"]You will then have to continue with this instruction: enable Re-partition, F. Reset Time and Auto Reboot, then tap "Start" and the new firmware will be flashed on your phone.
"Pass" will then pop up as soon as the installation is complete. Then the Galaxy Express GT-I8730 will restart and display a home screen. The second you see that, unplug the smartphone from the laptop. And your device will be yours to enjoy!
If the new firmware doesn't seem appealing, you should do this: revoke he upgrade process with the help of the NANDroid backup file from earlier.
As always, drop a comment in the field below in case you have questions about the update.