How to Update Galaxy Ace Plus GT-S7500 to Android 2.3.6 BUNC2
If you were to choose what OS to get for your Galaxy Ace Plus GT-S7500, we'd recommend this one: Android 2.3.6 Gingerbread. Your smartphone has the opportunity to feature this version through an upgrade procedure.
If the latest Android version, namely the Gingerbread one, is missing from your smartphone, we will help you with its installation. Our update process includes BUNC2, This firmware, launched this month for the Czech Republic, can make it on the phone if you follow this particular tutorial. And if you have the Galaxy Ace Plus GT-S7500 on Vodafone. If you don't go with this model for the upgrade, our guide will brick it.
The novelties
In case you don't know how a rooted handset reacts to an update, you'll discover right away. First off, root access will be revoked, then you will end up with a deleted system partition. There's no chance of remaining, after the update, without important data or the phone's internal / external SD cards.
The new firmware's KIES logo doesn't come activated. Because of this, only OTA or this guide should be used (but in the case of OTA, only a phone with stock ROM has to be used).
After checking the model of your smartphone to make sure you're using the correct one, you should become aware of the OS's goodies. This new OS comes with mobile hotspot bug fixes and with better Vcast apps. You will also immerse yourself in stability for data connectivity in case you ever consider disabling the device's Airplane Mode. Having a new OS also means Commercial Mobile Alert Service and Visual Voice Mail updates. With this firmware, your smartphone will get the possibility to move between home screen and this: a much better Favorite Contacts widget. If you want to use a navigator, there will be an enhanced VZ Navigator with many 3D map improvements. Last addition to the list: better 4G usage.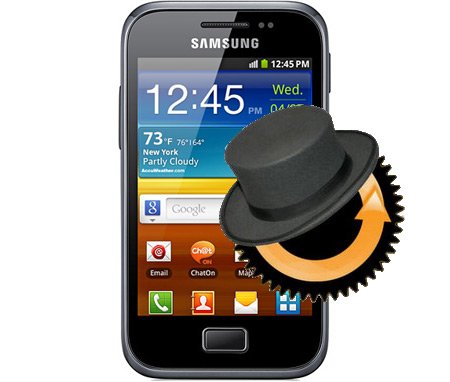 Prerequisites
Consider these compulsory pre-requisites before you go ahead and update your phone:
the laptop has some security programs which must be turned off;
the smartphone also has this kind of programs, so disable them there, too;
create standard backups;
create a full NANDroid backup, as well;
USB drivers compatible with the handset should be downloaded on your laptop;
for our update we need you to use a laptop that's running Windows;
charge the battery of your Galaxy Ace Plus GT-S7500.
Step by step instructions
After charging the battery, enabling USB Debugging and so on, download some packages on your notebook.
These are called Odin v3.09 and the . They are packages whose content must be unzipped next. Some of the best tools you can use for this are WinRar or 7Zip. Choose one of them, use it on the packages and you will remain with many files after the unzipping.
One of them needs to be launched on your notebook. Its the file with this name: Odin v3.09.exe. Boot the handset in Download Mode now by pressing and holding Home, Power and Volume Down together, stopping as soon as a boot screen appears, then making sure that Volume Up is pressed.
Your next set of tasks is this: create a connection between your smartphone and the laptop, then add the firmware file to AP / PDA. To make the plugging happen, you need the help of your handset's USB cord. Once the Odin displays a blue sign, the connection will have become possible.
You should wait for some boxes to come up after a connection's been made. When these boxes appear, you will have to activate 2 of them and leave a third one unchecked; the latter is Re-partition. The boxes you need to activate are Auto Reboot, then F. Reset Time.
The BUNC2 official firmware should be on its way to your handset now. To begin its installation, "Start" needs to be tapped. Wait until the Galaxy Ace Plus GT-S7500 signals the end of the flashing period.
[sc name="banner-jos"]You are now required to unplug the handset from the laptop to conclude the guide. Then do as follows: tap Settings and About Phone to launch the latest Android 2.3.6 BUNC2 to your smartphone.
In case you're pining after the old ROM, the NANDroid backup will make it return to the device. But it will also remove the upgrade.
Feel free to ask us anything you want about the procedure by using the comment field below.