How to Root Samsung Galaxy S3 Mini GT-I8190L on any Firmware
Galaxy S3 Mini I8190L is scheduled for a rooting procedure with SRSRoot tool. This method has what it takes to help the owner of this phone make the most out of it. Especially since we're talking about better battery, many goodies and better performance!
The secret to a successfully rooted Galaxy S3 Mini GT-I8190L is the right method. There are many available tools, but one of the best is the SRSRoot one. It's already powered by an SRS Server, making it easy to unroot your device if you aren't satisfied with it anymore. Your phone's already sporting Android 4.1.1; using the one-click rooting method on it doesn't affect this OS. The SRSRoot method is made to work with many Android versions and phone brands.
Even if the Build ID we're using for the rooting is JRO03H.I8190LUBALJA (Jelly Bean 4.1.1), the SRSRoot is compatible with many other firmwares. The list with few of them is this here: UBAMG5, UBAMK1, UBAMB1, UBAMG2, UBAMD1, UBAMH1, UBAMH2 and UBAMH3 (all of them are Jelly Bean 4.1.2).
The novelties
After it's used on your phone, the latter will be subjected to many novelties. They will make sure that the device experiences plenty of very useful goodies. Some of them: new features and battery options to improve the handset's battery life. If you want to know what other new stuff you'll get after the rooting, we'll tell you. The smartphone can receive custom ROMs and customization tweaks. Also, it can sport apps that are only available for rooted devices. On the whole, the Galaxy S3 Mini I8190L will end up with superior performance, faster CPU and so much more.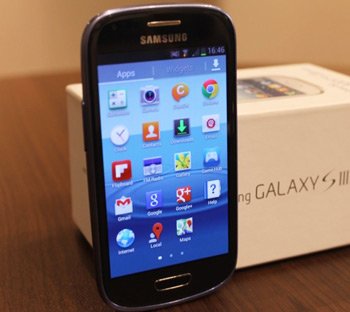 The SRSRoot method makes sure you don't have to go through bloatware while using the handset. Another thing you'll get rid of: security issues. As a user you'll have permissions at admin and superuser levels.
For every rooting out there, you'll experience both advantages and disadvantages. W discussed the former. Let's see what the latter look like. A rooted smartphone always means this: its warranty will be deleted; you'll have to look for ways to get it back afterwards. Another con of having a rooted handset is the following: the phone will end up with a deleted system partition if you ever want to update it to the latest Android version. Root access will be revoked if flash new upgrade firmware. Only use the device model we told you about today; when another one gets rooted, you'll have a bricked gadget on your hands.
Step by step instructions
If you know what'sin store for your smartphone should you root it, we have some requirements for you:
your Samsung GT-I8190L requires USB drivers that are compatible with it;
find them on this page, then download them on your notebook;
to keep your handset's important data safe from all sorts of damage, make a backup;
also create a full NANDroid backup (the instructions are here);
check battery level on your phone and charge the latter if need be;
disable, on your notebook, the security programs it's using;
deactivate the security programs running on your smartphone next;
turn on USB Debugging on the handset now;
use a laptop which comes with Windows.
Step by step instructions
The rooting of your phone via the SRSRoot method is ready to happen.
To help it start, we recommend going to a dedicated page where a download button for this tool will appear. When you see that particular button, you should tap it. Before downloading it, you have to know that the software doesn't need you to pay money for it. It's completely free of charge.
After the download is over, you need to install this tool on the laptop, open it and tick Unknown Sources. Settings is where you'll discover this option, so go there from Menu.
Once the Unknown Sources is activated, enable USB Debugging if you haven't done it above. A connection between the Galaxy S3 Mini GT-I8190L and your laptop must be generated next.
[sc name="banner-jos"]If you're clueless about this: create the said connection by using the handset's USB cable. If the products have entered a plugging, good; if not, consider repeating the previous steps.
At the end of the previous connection step, make sure this option is tapped: Root Device (All Methods). The rooting process is going to commence very soon. It will be done after no more than 13 minutes. You're now using a rooted smartphone!
If you ever run into problems during the procedure, use the comment section underneath to leave your questions.