How to Root Samsung Galaxy Y SCH-i509
Samsung Galaxy Y SCH-i509 CDMA has an important experience to try out. The name of what your smartphone will go through is a "rooting". This needs you to put the handset and laptop at work. Details up next!
From the beginning, you need to know that this procedure is done with SRSRoot. This tool is high on advantages and low on cons. The pros will appear from the very start. Once the SRSRoot, which is freeware, becomes available on the handset, you'll have new features to enjoy. The tool also delivers stuff such as customization options.
The benefits of this method
The smartphone is soon going to benefit from tweaks that help its battery. Meaning, the latter will survive more to daily use. Your device was out in 2012. During that time, it delivered a speed of 800 MHz. The processor is looking towards an improvement after the rooting. This is a procedure which brings these, as well: root-only apps. With power from an SRS Server, the rooting freeware has custom ROMs in store for you. The SRSRoot will work with every gadget out there; this also means that each of the already launched Android OS versions are accepted by this freeware. Your Galaxy Y SCH-i509 uses Android 2.3.5 Gingerbread.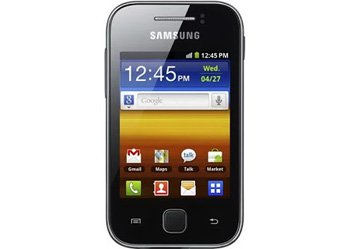 If you use this rooting tool, you'll be protected from every security bug that may come your way. There's no bloatware to be expected from the SRSRoot. However, you should find an appropriate Build ID. In case you have none, we suggest this one: GINGERBREAD.EI19. If you're a pro at rooting, you can use whichever Build ID you locate. This is possible thanks to the rooting, too: having superuser and also admin permission.
You will have no warranty to work with after the rooting. This essential element will return to your phone after you use a guide which fits it; and which tells you how a restoration works.
Another important thing must be indicated. When you want to perform an update and there's root access around, the system partition has to be taken away. The root access leaves, too. Every other important thing remains; this includes your phone's important content and internal / external SD cards.
Prerequisites
You can now move on. First, take a look at these:
all of the laptop's security programs must be turned off;
this guide cannot be begun and completed if the phone's battery isn't fully charged;
USB drivers have to be downloaded on your laptop from this website;
the above have to be installed on this product next;
create some backups to take care of the phone's data;
create a full NANDroid backup;
Windows must be the laptop's operating system;
activate, on your Galaxy Y SCH-i509, USB Debugging;
each of the phone's security programs must also be deactivated.
Step by step instructions
Requirements now taken care of, you need to begin the device's rooting.
The following has to happen first: have the SRSRoot downloaded from here on your laptop. This website contains the freeware; all you have to do is click on its download button.
Do this next: flash the app on the laptop, then have it launched there.
You have to perform a third step afterwards. It looks like this: enable, on the Samsung Galaxy Y SCH-i509, Menu and Settings. This last option has another one under it; its name is Unknown Sources and you should make sure it's turned on.
USB Debugging is the option you were asked to enable not too long ago. Time to move on if you tapped it at the right time. In case you still haven't enabled it, do it now.
Then, simply take the phone's USB cable. A connection between this device and your laptop has to be established with said cord.
The process doesn't end in an hour; it will be over in a couple of minutes. You will be asked to move on by starting the rooting.
To begin the procedure which will improve your smartphone, tap its Root Device (All Methods) option. Wait approximately 15 minutes.
[sc name="banner-jos"]If there are no signs of the process ending in that amount of time, time for a solution. Which comes in this form: redo the steps you had to perform till now. If done, the Samsung Galaxy Y SCH-i509 is ready to enter the final stage. For this, restart the phone.
Reboot System Now is the answer to this important action. Tap it, then wait a bit.
Once the handset has rebooted, you will be alone with it. So take a look at how the device has become better. The root access can be revoked later on, if you want to return the handset back to the start. The SRSRoot will help with everything.
You have a comment section under this post. Drop us a comment or leave your question(s) if the rooting becomes too hard to do.