How to Root your Galaxy S Duos GT-S7582
The rooting needs of your Galaxy S Duos GT-S7582 are about to get met. The app that delivers root access to this device is mentioned in this tutorial.
In order to get the best for your phone, you'll need the help of a very special app. Its popularity is given by the generous number of novelties that gadgets get exposed to while using it. Provided you know the drawbacks to rooting your handset, you're in for a very easy way to do it.
But let's see what those disadvantages imply for your S7582. If you are done rooting the latter and you want an update for it, you'll be asked to give some things up. System partition is one of them. The other one is root access.
A third loss for your device is its warranty, which will be revoked. However, things such as important data, internal / external SD cards and so on won't be lost or damaged.
The Build ID we decided upon for this rooting was JDQ39.S7582XXUAMK3. If you have another Build ID that you want to use, go ahead. The SRSRoot will function with all kinds of such tools.
The benefits of this method
Released last your, your device is also known as Samsung Galaxy Trend Plus S7580 with single SIM card slot. With Android 4.2.2 Jelly Bean and a dual-core 1.2 GHz Cortex-A9 CPU, this model will receive loads of improvement thanks to the SRSRoot app.
They include help to customize your smartphone and plenty of root-only applications. You will experience a faster processor and new features. Also, the smartphone's about to sport battery tweaks; the latter provide more time with your handset doing your favorite things without having to constantly charge it. There are also superuser and admin permission as well as custom ROMs to be excited about.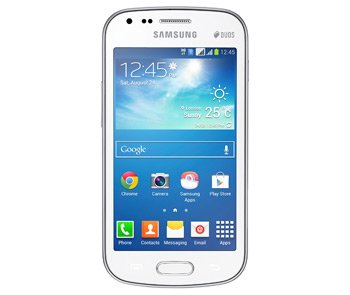 Powered by an SRS Server, this app is a tool which doesn't delete the Android version a gadget possesses. So the Jelly Bean variant on your device will stay where it is. You will also have the possibility to use the new app as an unrooting method.
Prerequisites
For now, have a look at these important pre-requisites:
be careful to save the data on your Samsung GT-S7582 by generating one or more regular backups;
remember to also create a full NANDroid backup;
turn on an option on your handset called USB Debugging;
your laptop has to sport Windows;
check and see whether or not your handset requires a full battery charge;
perform one if it does;
USB drivers for your handset have to be downloaded on the notebook;
the security programs on the notebook must be turned off;
then have the notebook's security software turned off, as well.
Step by step instructions
After you're done applying each of these instructions, you can begin the rooting.
First, provide your notebook with the SRSRoot software. This application must be downloaded on it from this page. Never use another website for this as it might contain viruses. Done with the download?
Go to the app and install it on the laptop. After you get it to launch there, follow this next step: go to Menu and have it tapped.
Tap Settings afterwards, take a peek under it and you'll spot an Unknown Sources option.
Your next task is to tap this one and then USB Debugging. Only activate the latter if you haven't done so already. If you have, then do the following: provide a plugging between your laptop and the phone. This will have to be helped by the USB cord of your Galaxy S Duos S7582.
A couple of minutes will have to pass in order to end up with 2 connected devices. If nothing's going on, it's usually a good idea to redo all of our steps up until this one.
[sc name="banner-jos"]After you notice the two successfully entering that plugging phase, do this: search for Root Device (All Methods). By clicking on it, you'll initiate the rooting stage of this tutorial.
Have some patience until the process is all done. This will not take more than 15 minutes. When everything's over, your smartphone should be restarted. This will finally end our guide.
You will now experience what it feels like to have a rooted Galaxy S Duos GT-S7582. If something's bothering you about it, remember this: you can unroot it any time you want to. With the help of the same app you just used on your device.
Questions about the procedure? A comment box is ready to receive them below!