Install XXAMK1 Jelly Bean 4.1.2 Official Firmware on Galaxy Grand Quattro I8552
You should prepare your Galaxy Grand Quattro I8552 for a tutorial that will allow it to be updated to this OS: Android 4.1.2 Jelly Bean. The tool that works perfectly well with this phone is XXAMK1 official firmware.
With the special aid of the new official firmware, you will get to own a handset which is going to impress you. Not that the actual performance of your device is not impressive, it's just that an update will make the whole experience even more noteworthy. If you are after something like this, then by all means keep close for how you can upgrade your handset, too!
An update means that new features will be present on your Grand Quattro I8552 (also labelled Galaxy Win), the battery will not die out as quickly as before, new options will help you own an easy to customize phone, there will also be new apps to play with and more. In case all of this appeals to you, below you will find, first and foremost, some requirements before you start the update process.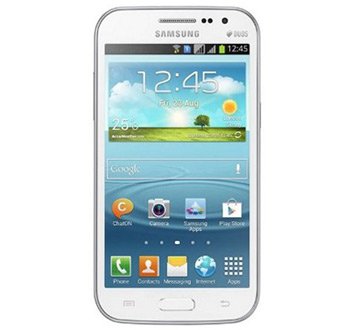 Requirements
So, these are the main requirements:
download Odin tool v3.07 from here and the new Jelly Bean firmware from (file name: I8552XXAMK1_I8552OLBAMJ2_XSE.zip) on your laptop;
charge the battery that works inside your handset;
turn USB Debugging on;
get USB drivers for your smartphone from here on your notebook;
use the carrier and factory unlocked Galaxy Grand Quattro;
create a backup via this guide.
Instructions
Let's now start the tutorial that contains all the update steps you are in need for.
Number one: unzip the content of the two files that are saved on your laptop. You should see Odin3 v3.07.exe and .tar.md5 among a lot of many different files.
After that make sure you move on to the second step, which tells you to do this: power the phone off and then enter it in Download Mode by pressing + holding Volume Down + Home + Power and stop when you spot the logo of Android and a triangle of warning, then press only Volume Up.
Launch, next, the Odin as Admin on your notebook and plug your phone to your second device; the two will establish a connection when you will see an "Added!!" message and a yellow ID:COM box; we recommend you to use another USB port or flash the USB drivers again in case there's zero connection.
But if the connection has been established, you should move on with the guide by doing the following: tap "PDA", choose the file called .tar.md5, click on "Phone", opt for a file with MODEM in the name, tap "CSC", choose a file that has CSC in the name, tap "PIT" and opt for a file with .pit in it.
Now move on by turning these boxes on: F. Reset Time, Repartition (if you opted for the .pit file) and Auto Reboot. Now tap "START" and the update will begin.
[sc name="banner-jos"]When this is over, you have to wait for your handset to restart and also show you a message that reads "PASS"; which means that it's OK to unplug the phone from your laptop.
Once you do that, your Galaxy Grand Quattro I8552 is updated to the Android 4.1.2 XXAMK1 official firmware. Which firmware can get accessed like this: go to your phone's "Settings" and then tap "About phone". In case there's no update tool there, you will have to repeat the tutorial. But if it's there, then get the most out of it starting now!
IMPORTANT NOTICE: However, in case your smartphone goes through a boot animation freeze, you should solve the problem like this: enter your handset in the Recovery Mode, choose "Factory Reset/Wipe Data", opt for "Wipe Cache Partition" and restart your phone.