Install TWRP Recovery on Motorola Razr HD LTE (XT925)
We have, thanks to a developer, access to a way in which to install TWRP Recovery on Motorola's Razr HD LTE (XT925). It was just what we and owners of this smartphone were looking for.
But what exactly does this Team Win Recovery Project tool need in order to be featured on this type of handset? Not that much, really. But you need to pay attention to all of the stuff we will write in this post.
Otherwise the procedure will not end well. Especially for your phone. Let's see some of the requirements before we jump to the installation part of our tutorial.
Requirements
You will have to check if your laptop comes with Windows along with USB drivers. Then you will be required to make sure the phone's and the USB Debugging turned on.
Next: download two files; one is called and the other is known as (the name of the file is twrp-hdrecovery.img). Turn off every program which protects your comp against threats. Now install the following on your laptop: . When you are done with these, make backups of the data which is on the Razr HD LTE (XT925) and charge the battery of the phone till it reaches its maximum.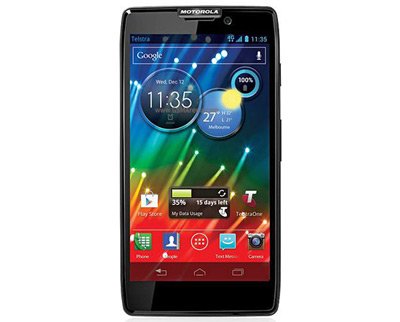 Now you can proceed to the second phase of our guide: the actual installation of the TWRP Recovery.
Important instructions
Step one requests the following of you: unzip the Fastboots.zip archive to the laptop you work with and see if you locate a file called Fastboots.
As soon as you spot it, copy twrp-hdrecovery.img to that folder and move on to step number two. According to it, you need to switch the Razr HD XT925 off and then restart it and access the Boot Mode Selection mode. This is performed in the following manner: make sure to select the keys for Volume Down, Volume Up and Power for about 5 seconds at the same time.
[sc name="banner-jos"]For step three you have to use Volume in order to select Fastboot.
Step four asks you to choose this option by tapping on Power.
Next operation: plug the handset to the laptop through the former's USB cord. Step five needs you to have patience till the installation of the necessary driver is complete. Once it's done, launch the command line on the comp using the Start > Cmd method.
Step six prompts you to access the Fastboots and then enter
fastboot devices
fastboot flash recovery twrp-hdrecovery.img
fastboot reboot
After the first command is typed you will see a weird code.
The seventh step requires you to access once again into the Boot Mode Selection. Once here, you can enter the TWRP Recovery via the dedicated menu.
When you're there, the last step will need you to opt for Recovery. The TWRP Recovery is now present on your Motorola Razr HD XT925.