How to Install KitKat 4.4.2 XXU1AND9 on Galaxy Tab 4 10.1 SM-T535
Galaxy Tab 4 10.1 SM-T535 is being subjected to a guide whose main purpose is this: updating it to Android 4.4.2. The KitKat version of this popular OS has only great things for your tablet. Let's find out all about them today.
This update creates lots of opportunities to improve your gadget. Particularly since XXU1AND9 official firmware was launched this month especially for your Galaxy Tab 4 SM-T535 instead of another model. So only use the tablet we just discussed right now. Also, don't use the new firmware if you're not living in one of these regions: France, Italy, Germany, Switzerland, Romania, Spain, Nordic countries.
Each of the goodies you'll get accustomed to after the upgrade will do great things for your tablet. Not only will they help it deliver an awesome performance, but they will also let you enjoy your gadget for longer periods of time. Moreover, your device will be very easy to customize. Numerous new features and apps will be made available for your device, too.
The Android 4.4.2 KitKat XXU1AND9 has a deactivated KIES logo. With that in mind, there's no way you can perform an update with KIES. You can only do so by following our guide or via OTA. Whenever OTA's involved in the procedure, your tablet will have to come with stock ROM.
When you install the new firmware on a rooted Galaxy Tab 4 10.1 SM-T535, you'll have to witness some cons. The first to be damaged will be your gadget's root access. After it gets revoked, the system partition will be damaged, as well, by being deleted. These won't be affected by the upgrade: important data and internal / external SD cards.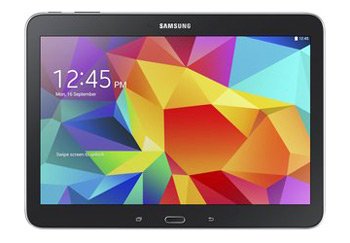 Prerequisites
Use the following instructions to prepare the tablet for the update:
you need to perform the upgrade with a laptop that's running Windows;
create a regular backup (or a couple of them) for your tablet's important content;
make sure a full NANDroid backup is also performed;
enable the option called USB Debugging on your tablet;
download, on the laptop, USB drivers from this page;
charge, if necessary, the tablet's battery;
disable the tablet's security programs, then the ones installed on the notebook you use.
Step by step instructions
If everything's done as shown above, go ahead and add the new firmware and OS with some steps.
The one to begin the upgrade requires the download of Odin v3.09 from this page and the KitKat 4.2.2. XXU1AND9 on your laptop. For the latter, choose the version fit for your country: , , , , , and .
Then move to this set of actions: unzip the packages that were just downloaded and open Odin v3.09.exe on the notebook.
What you have to do now is easy: restart the tablet in Download Mode. For this step, make sure you do the following: pressing and holding Home, Power and Volume Down at the same time will bring a boot message up; when it appears, press only Volume Up.
After this part, connect the Samsung SM-T535 to your laptop. The creation of a connection between the devices is made easy by the use of your tablet's USB cord. In just a couple of minutes, Odin will show you a sign in blue telling you that the plugging's now complete.
After it is, you should add the firmware file to AP / PDA. If the moving's finished, check Auto Reboot and F. Reset Time, then un-check Re-partition and get ready to flash the Android 4.4.2 KitKat XXU1AND9 official firmware. The installation of the latter will begin as soon as you tap "Start".
After that it performed, wait for your tablet to tell you about the installation's progress. When the latter is done, the gadget will deliver, in a green background, this message: "Pass". The same device will afterwards reboot all on its own. So now unplug the tablet from your notebook.
[sc name="banner-jos"]Once you're done with the previous step, which is the last, tap Settings on the Galaxy Tab 4 SM-T535. Now tap About Tablet. Look for the new OS there, then make sure you test it.
Should it not be what we promised it would, we recommend restoring the old ROM. Which is where the previous NANDroid backup file will prove useful. Apart from bringing that old ROM back, this file will revoke the update, too.
When and if you have questions/comments for us, use the box below!