How to Install Kit Kat 4.4.2 ZCUEND1 on Galaxy Note 3 SM-N9006
Galaxy Note 3 SM-N9006 will welcome Android 4.4.2, the KitKat version, after you're done with our guide. The upgrade is not difficult to perform. You'll see that in a couple of minutes!
As soon as your phablet faces this new OS, its performance will improve a lot. This operating system will update your smartphone to new apps, new options to help the battery last more and so on. The new Kit Kat is going to also bring customization options and new features.
You will experience the upgrade as soon as ZCUEND1 is installed on the Galaxy Note 3 N9006. You will brick your device if it's not this model. Also, the new firmware should only be used on the Chinese version of this gadget we mentioned.
Launched this April, the new firmware has an activated KIES logo. In other words, you can, if you prefer this method, use Samsung's KIES to perform the update. But we must tell you that the KIES option has to be applied on a device with stock ROM.
Another important thing to consider: the upgrade is going to affect your device in more ways than one. The first to be damaged: root access. The latter will soon be revoked from the Samsung SM-N9006. The second to go will be the phone's system partition; which will be deleted. You have no reason to be worried for the internal / external SD cards or important data: they aren't going to be affected.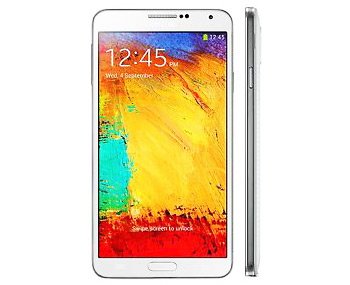 Prerequisites
To consider performing an update, your phablet and notebook will have to experience these pre-requisites:
Step by step instructions
The steps we want you to perform next are easy to follow. If you have problems with them, we have a comment box at the end of the guide.
Here's how you should start the procedure: download and then Odin v3.09 from this page on your laptop. The download needs to be followed by this task: extract the packages.
This is best done by using WinRar or 7Zip. The unzipping will leave you with a bunch of files. Odin v3.09.exe is one of them and you need to launch it on the laptop.
To move on, you have to make sure the Galaxy Note 3 SM-N9006 reaches Download Mode. To enter this mode, you have to press and simultaneously hold Home, Power and Volume Down. Then, as soon as a boot message pops up, you need to press Volume Up.
Now that you're done with this, time for a different task. According to it, you should be sure to create a connection between the phone and the laptop with the former's USB cable.
Now just wait till the Odin comes up with a sign in blue. If you notice it doing that, your devices are now correctly plugged to each other. To continue, do as follows: move the firmware file to AP / PDA, check F. Reset Time, activate Auto Reboot and uncheck Re-partition.
You are now close to experiencing the Android 4.4.2 KitKat. Before you can do that, you need to tap "Start". The new firmware will then be flashed on the phone; this process usually takes less than 20 minutes, so wait. The wait should be over once the gadget reboots after displaying this message in green: "Pass".
[sc name="banner-jos"]It's now time for one last step: disconnect the phablet from the laptop. To unplug the two, you can do this: take the USB cord out. After performing this final step, here's what to do in case you want to enjoy the new OS as soon as possible: on your device, find Settings in the Menu, tap it, then tap About Tablet, too.
After locating this version as mentioned, you can finally give it a spin. If it's not awesome, there's the possibility to have the former ROM back. Which is the job of the NANDroid backup file. But this restoration will soon have the upgrade revoked from your gadget.
Don't forget to use our comment box in case you have questions!