How to Install Android 4.2.2 XXUANA3 on Galaxy Core Advance GT-I8580
Time to upgrade your Galaxy Core Advance GT-I8580 so that you can take full advantage of Android 4.2.2 JB.
To do that, XXUANA3 for Turkey and Mexico was released last month. This firmware's strengths intertwine with what the Android 4.2.2 has to offer. Which is a new set of sounds for wireless charging, low battery bug fixes and not to mention a USB debug white-list.
If that isn't enough, the update brings a new set of download notifications and the possibility to long-press the WiFi Bluetooth icons in Quick Settings so that you can easily toggle the on/off state. Your smartphone also gets to play with a new Gallery app and an improved Bluetooth audio streaming feature.
Once the update is performed on your handset, you will notice improvement all around. The battery will also last more and you won't be hindered by security problems. If you wish to customize your phone, you will be able to do that, too.
We only ask that you use only the Galaxy Core Advance I8580 instead of another device. This way you won't brick your smartphone if it's the right model.
Every update ever performed comes with some disadvantages. As always, here are the main ones: a revoked root access and a deleted system partition if the phone's rooted beforehand. But even if you update a rooted Galaxy Core Advance GT-I8580, the important data won't be erased. Likewise, the phone's important internal and external SD cards will stay safe.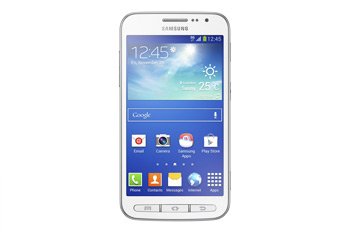 Requirements
We recommend you to perform the pre-requisites below before the start of the guide:
you need to create a couple of backups;
don't forget to create a full NANDroid backup (the tutorial is here);
go to this place to download USB drivers on the notebook;
the security programs that are turned on the handset must be deactivated;
an option called USB Debugging must be activated on your Galaxy Core Advance GT-I8580;
if battery levels are low on your smartphone, charge the unit;
your notebook must sport Windows;
turn off the security solutions present on your laptop.
Step by step instructions
Begin the update of your smartphone with these first couple of tasks: download, on the notebook, Odin and the Jelly Bean 4.2.2 XXUANA3 (the version for Turkey is available and the Mexico version is ), then have both these files saved and unzipped on the laptop.
Coming up next is the part where you need to boot the handset in Download Mode. This can be done easily and quickly like this: press and hold, at the same time, Volume Down, Home and Power, then release them and press Volume Up once a boot screen is displayed.
Open Odin as Admin on your notebook. Do that by right-clicking on exe.file and after that on the option called "Run as administrator". Plug the phone with its USB cord, to the notebook.
A connection should then be established between the phone and the second device. The plugging will end when a yellow (or blue) ID:COM box and "Added!!" are shown on the display. Should you have to deal with a failed plugging process, try once more.
To re-establish the connection, you can choose to use another USB port or flash the USB drivers until it works.
Great, now do this: tap BL, opt for a file with BL in the name, tap AP, choose a file with AP in the name, tap CP, choose a file with CP in its name, tap CSC, select a file which has CSC in the name, click on PIT and choose a file that should have an extension going by the name of.pit.
Some boxes will appear on-screen next. Out of them, we recommend checking the ones called F. Reset Time, Auto Reboot and Re-partition, too. Check that they're all properly activated, then tap "Start" to begin the flashing stage of the XXUANA3.
[sc name="banner-jos"]The flashing will only request a couple of minutes of waiting. As soon as it's done, the Galaxy Core Advance GT-I8580 shall automatically reboot. When you see the device do that, wait for a green-colored "Pass" message to come up. If it appears, unplug the handset from the laptop.
You will then be able to get a move on with the phone and its XXUANA3 firmware. To do that: after you tap Settings, tap About Phone as well.
When the firmware stops being interesting, you can go to the NANDroid backup file and have it restore the previous ROM. The disadvantage: you'll lose the update.
Do you have questions for us? Drop them in the box below.