Update Galaxy Ace 3 LTE GT-S7275T to Jelly Bean 4.2.2 DVUANF2
Upgrading Galaxy Ace 3 LTE GT-S7275T is going to be a fun experience. If you use the right method, the whole procedure will be very easy to perform. And you will end up with some of the best features, options and whatnot around!
If you still haven't updated your Samsung GT-S7275T, you should. Otherwise you won't have access to this official firmware: Android 4.2.2 Jelly Bean DVUANF2. Launched for New Zealand this month, this is the best tool to use if you want to provide an upgrade for the phone.
You must install this firmware only on the phone model it was intended for. If the firmware ends up on the wrong handset, there will be consequences of a negative type.
The benefits of this official firmware
After having the new firmware on your phone, start expecting many goodies. They are going to enhance your device in all the right places. The list novelties to look forward to starts with this: the option to long-press the WiFi Bluetooth icons in Quick Settings to be able to toggle the on/off state while using the device. Your smartphone is also delivered the following: a new Gallery app.
These aren't the only new additions. The handset is being offered improved Bluetooth audio streaming and a USB debug white-list, too. Moving on, we have a new set of sounds for wireless charging. New features and a new set of download notifications come up next. Low battery bug fixes will also added.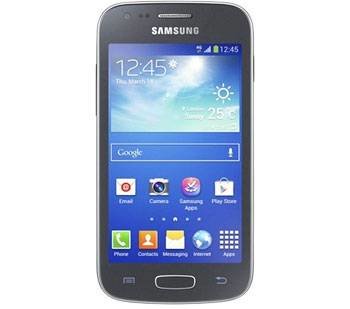 There's always the possibility to upgrade your phone with the KIES method. The official firmware we chose has an activated KIES logo. This update method should only be used on a handset that delivers stock ROM in advance.
If you have a rooted Galaxy Ace 3 GT-S7275T, the Android 4.2.2 DVUANF2 will affect it. The firmware will delete system partition and revoke root access. These are the only two things to be affected by an upgrade. Your most treasured data, internal / external SD cards and so on won't receive damage.
Prerequisites
Next on the list of things to do: pre-requisites. They're as follows:
turn on USB Debugging on your smartphone;
turn off the handset's security programs;
the security programs installed on the notebook should be disabled;
charge the battery of your device;
download USB drivers from this page on your notebook (these drivers are compatible with your phone);
Windows has to be the OS version already running on the notebook;
generate one (or more) normal backups to save the data on your handset;
a full NANDroid backup should be created afterwards.
Step by step instructions
Start the update by grabbing the . Download, next, Odin v3.09 by going to this address.
The packages must be extracted with WinRar now. Open, on your laptop, the file called Odin v3.09.exe. You will then be asked to restart the smartphone in Download Mode.
To perform this step, press and hold the following buttons: Home, Power and Volume Down together. You're not done yet. Once the display has a boot message on it, do this: press Volume Up.
Perform a plugging between the handset and your notebook; to help with this is the phone's USB cord. When Odin has finally found the handset, it will pop up with a sign in blue.
Now that you have two devices correctly connected to each other, proceed to the next step. Which tells you to add the firmware file to AP / PDA and then uncheck Re-partition.
Move on by doing this: tick Auto Reboot and F. Reset Time. The firmware that upgrades your phone must be flashed now.
Commence the process by looking for "Start". After you set eyes on it, make sure you click on this option. Then let the installation do its thing.
[sc name="banner-jos"]The phone should have a "Pass" message on its screen in a couple of minutes. If it does, the Galaxy Ace 3 GT-S7275T will reboot. You can now do the following: unplug your devices from one another. This is the way to do it: remove the USB cable.
Tap Settings on your phone, then this option: About Phone. This is going to help you enjoy all the update novelties we first discussed in our post.
What to do if you dislike them and want the old ROM back? The NANDroid backup file is the answer to this question. Using it will restore that ROM in no time at all. It will, however, revoke your handset's update procedure.
Use the comment field under this guide if you're going to have problems!