Flash RomAur Miui for Samsung Galaxy S3 GT-I9300
The Samsung Galaxy S3 GT-I9300 has long needed a custom ROM to let users enjoy the best things on this smartphone. The solution to that is simpler than you might think. All you need to perform is some very useful steps that we added here.
The person who designed the custom ROM that makes it possible to enjoy the Android 4.0 Ice Cream Sandwich OS on the Galaxy S3 GT-I9300 gave it the name of RomAur Miui. Its developer created it using an official MIUI 2.8.31. This, in its turn, appeared after the team at MIUIAndroid put their heads together to create something new. Tests showed that it is a reliable custom ROM. However, since it is not something official, it can cause bugs getting into your smartphone. And other issues. But if you encounter them, a specialist will get you rid of them.
Requirements
There are, though, some things you need to do before running to the installation steps. Don't think of using this ROM on a smartphone whose name is not the GT-I9300 model. Take a look at all the steps in the list and make sure to do as you are instructed. If you decide to skip a step or more, then the installation process will go wrong. And you will do more harm than good to your phone. Caution and alertness are strongly recommended here.
What about requirements? Here they are: your device has to ship with the ClockworkMod Recovery feature. Then you need the RomAur Miui custom ROM made especially for the Galaxy S3 I9300 (RomAur Miui 2.8.31.zip). Then open the smartphone and take a look at the battery icon. If it has less than 70% juices, go and recharge it till it reaches 100%; or over 60%. The last requirement implies the creation of a backup. The latter must include what you deem as stuff that you need every day.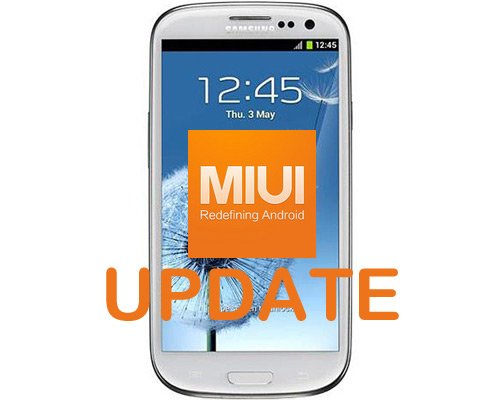 Important instructions
The steps that you need to follow to make sure you can flash the RomAur Miui on your phone are below. Follow them as they were written.
The first step is to copy the ROM file to the internal SD card that is inside the smartphone.
To complete step 2 you need to switch the device off.
[sc name="banner-jos"]Step 3: restart the phone in the ClockworkMod Recovery mode; that is achieved after you hold the keys for Home, Volume Up and Power at the same time. Once the phone's display comes to life, these buttons need to be released.
For step 4 you are asked to do a backup of the smartphone's existing ROM. To perform that: choose Backup and Restore and you will see another screen. Opt for Backup once more when you see it.
In step 5, you must return to main recovery menu.
The selection of Factory reset/Wipe data and its confirmation are step 6.
To complete step 7 you have to choose Wipe cache partition. Then confirm it at the next level.
Step 8: opt for Mounts and storage, then Format/System. This, in its turn, requires a confirmation.
After you do it, choose Mounts&Storage, followed by Format/Cache. Confirm all of this on the next screen.
For step 10 Select Mounts and storage > Format/Data; confirm everything on the next screen.
Before proceeding to the last step, there's step 11 to perform: go back to the phone's main recovery menu and then choose Install ZIP from SD card; after you chose that, select Choose ZIP from SD card.
Finally, once here, opt for the ROM's ZIP file. To make it final, you need a confirmation.
The last step requires you to restart the phone.
You can now start to discover what novelties you can enjoy on your upgraded Galaxy S3 GT-I9300.