How to Flash Android 4.3 ZNUANC1 on Galaxy Grand 2 Duos SM-G7106
Time to upgrade Galaxy Grand 2 Duos SM-G7106 to Android 4.3! Which you can do on your own with the help of our tutorial. Let's start!
A special tool should be used for your phone's update. Here is its name: ZNUANC1. This firmware was launched recently for China. If you don't have the Samsung SM-G7106 for the update, you will have to look for another guide; we only use this particular phone, as does this new update file.
The novelties
The firmware we opted for today comes with its KIES logo disabled. If you don't know what this means: you basically cannot upgrade the device with the KIES software. Instead, you are left with two options that are equally good: OTA (over-the-air) or this tutorial. If the OTA is what you select, be sure to have stock ROM on the phone.
All the usual goodies associated with the Android 4.3 will land on your G7106 thanks to the ZNUANC1 official firmware. There's nothing new besides the new features, customization tweaks and so on.
A rooted handset will be affected by the upgrade. Here is a look at what will happen: system partition will be erased and root access will end up revoked. The smartphone's internal and external SD cards will stay where they currently are, and so will the handset's important content.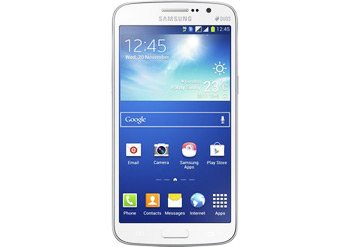 Prerequisites
All that's left for you now is to follow the list of pre-requisites underneath:
you should always create a backup to save the crucial data present on the Galaxy Grand 2 Duos SM-G7106;
a full NANDroid backup is also useful, so create one;
charge your smartphone to its fullest if charge levels are very low;
enable, on the handset, USB Debugging;
Windows must be the operating system installed on your notebook;
this place has USB drivers fit for the phone, so download them from there on the laptop;
turn off the security programs that are flashed on the laptop and phone alike.
Step by step instructions
By following the steps below, you will get an updated phone soon.
Start the procedure by downloading on your notebook. Then download Odin v3.09 on it, too. The download process should end soon, so wait a bit for that.
After this part is done, here's what needs to be done now: extract the packages that are on your notebook. There is either WinRar or 7Zip to use for this.
You should then make sure your handset is entered in Download Mode. Take care of this by pressing and holding Home, Power and Volume Down simultaneously; press Volume Up after a box displays a boot message. Your Galaxy Grand 2 Duos SM-G7106 is now ready to be connected to the laptop.
The phone has a USB cable that works as a way to plug the devices to one another. Use it for this step, then wait until the Odin displays a blue sign.
This sign will let you know whether the plugging has indeed been performed successfully. If it has, you can add the firmware file to AP / PDA and move on by doing this: check Auto Reboot and F. Reset Time. You may notice a Re-partition box; you have to uncheck it before continuing with the guide.
After having performed the previous tasks, turn your attention to the new ROM. This firmware must be flashed on the smartphone as soon as possible, so tap "Start" to begin the installation on it. The firmware will take no more than 10-15 minutes.
So all you need to do for this amount of time is to have patience. If you're a newbie, the smartphone will tell you when the flashing is done. It will do that by showing up with "Pass" and restarting afterwards.
When you see the phone reboot, you will know that this device will have to be unplugged from your laptop. Disconnect the two by taking out the USB cord that has united them till now.
[sc name="banner-jos"]After nothing connects the two devices, go to the handset. Have a go at the new firmware by opening it. For that, tap Settings; another option which must be tapped next is About Phone.
Should you dislike how the Galaxy Grand 2 Duos SM-G7106 acts with the ZNUANC1, the old ROM is one click away. The NANDroid backup will restore it in no time at all. Sadly, the handset won't be updated anymore.
If you have questions for us, you can leave them in the comment box below.