How to Flash Android 4.3 UBUANB1 on Galaxy Grand 2 SM-G7105L
Galaxy Grand 2 SM-G7105L is the Samsung smartphone which will end up with Android 4.3 Jelly Bean very soon. If that sounds good, then stay with us as we provide a guide for its update!
If what you want for your phone is this new OS, our tutorial has just this official firmware which makes an update possible. It was launched this month for Chile (Telefonica), Colombia (Movistar) and the Dominican Republic. The new firmware's name is UBUANB1.
Because KIES is not going to work on your phone, we recommend using an over-the-air (OTA) method if you aren't comfortable with something else. The OTA, though, has a special requirement: the presence of stock ROM on your handset.
Prerequisites
This guide doesn't have such a pre-requisite. But it has others, as shown below:
begin by downloading USB drivers for the handset on your laptop from this address;
continue by making the regular kind of backup and then a full NANDroid one, as well;
your notebook's operating system needs to be Windows;
your Galaxy Grand 2 SM-G7105L needs to have USB Debugging activated;
charge the phone's battery till it's full;
turn off, on the smartphone, the security software that comes with it;
your laptop's security solutions needs to be turned off, as well.
Now that we're done with these requirements, let's proceed to the Android 4.3 and its goodies. They imply new apps, new ways to improve your phone's performance and customize it, new features and so on. But the most important thing of all: no more security problems.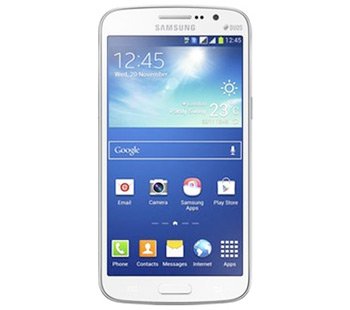 A word of warning: if this stock firmware lands on a rooted Samsung SM-G7105L, there will be consequences. The first one consists of a revoked root access. The other con is this: your phone will lose its system partition. Don't worry about the device's internal and external SD cards or its data: they will not be damaged.
Step by step instructions
You have to download, on your notebook, these packages for the first step: Odin tool (available here) and the Jelly Bean 4.3 UBUANB1 for (), and (Telefonica). The first package is available for download here, while the second one can be located on this site.
They both have to be unzipped with WinRar, 7Zip or any other unzipping tool you prefer. When the contents of the packages are extracted on the notebook, look for this one there: Odin v3.09.exe. Why? Because it needs to be launched on your laptop.
If you're done with the previous instructions, make sure the handset is booted in Download Mode. This particular step should be performed by pressing and simultaneously holding Home, Power and Volume Down.
Continue by doing this: release the previous keys and press Volume Up when a boot message is on the display. Now use the USB cord of your Galaxy Grand 2 G7105L so that the latter and your laptop are plugged to each other. They will be once the Odin is seen with a blue sign in tow.
For the next step, do this: tick Auto Reboot and after that check F. Reset Time, too. Re-partition must be unchecked. You can now add the firmware file to AP / PDA.
Tap "Start" and the UBUANB1 will enter an installation phase which will end as soon as a "Pass" message will be shown on the screen and the smartphone will restart on its own. All of this will take some 14 minutes.
Now that the flashing is over, time for the following final task: disconnect the two devices from one another. Which means that you should take the USB cable out.
With that, the new firmware and the new OS are both part of your Galaxy Grand 2 SM-G7105L.
[sc name="banner-jos"]This is going to give you the opportunity to see all the benefits belonging to the new OS variant. For that, you have to first open, on your phone, the Android 4.3 JB. How to do that? Easy: tap Settings, then tap About Phone.
Maybe you won't like the novelties your device possesses. What then? Just return the handset to its old ROM. Remember the NANDroid backup you had to make? Use the NANDroid backup file to restore the former ROM. The disadvantage of doing this: the upgrade process will be revoked.
If you didn't understand something during the guide, our comment field below will receive your questions!