How to Flash Android 4.3 KEUANC4 on Galaxy Ace 3 SCH-I679
Galaxy Ace 3 SCH-I679 has its fair share of attractive features. But with the addition of Android 4.3, it will have even more. Many of them are new and with them on-board, your phone will get to perform the best it's ever done. For a full update procedure, take a look at our guide.
The Galaxy Ace 3 SCH-I679 is joined by new firmware recently released for China (Anycall). Its name is KEUANC4 and it's only available for this country and this particular phone model. Never try it out on another one, because it will be damaged.
You can't perform the update on a rooted phone without expecting some damage done to it. The new OS will stripe your handset of its system partition. Also, root access will become unavailable. The damage won't include the device's data. As for the internal and external SD cards, your phone will not see them deleted.
The Android 4.3 JB KEUANC4 won't throw security problems at your phone. Instead, it will deliver many customization possibilities and new apps. The device's performance will become so much better.
You won't be able to do much with firmware that doesn't have an activated KIES logo. Which is the case with this official firmware. Instead of using Samsung's KIES, you can opt for our own method or OTA. The OTA method, though, can only be used if the Samsung SCH-I679 is complete with stock ROM.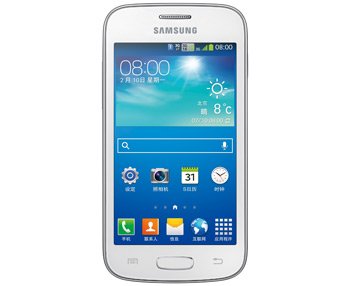 Prerequisites
With all of the above in mind, we suggest following some requirements for now:
make sure you turn off the security options that come with your laptop;
when you want to update your device, you will have to download USB drivers for it from this page on your notebook;
make sure every bit of your phone's data is saved via backups;
create, after you're done with the usual backups, a full NANDroid backup;
be sure to have USB Debugging turned on on your handset;
a laptop with Windows on-board is also required;
a full charge of your device's battery must be performed;
disable all of your phone's security software.
Step by step instructions
Now's the perfect time to get the new Jelly Bean on your handset.
Our first task for you looks like this: download the on the laptop. Then there's also Odin v3.09 to download on the same laptop.
Remember to have both of these packages extracted on the notebook; usually, with WinRar, WinZip and other such programs. You will then have to look for Odin v3.09.exe and open it on your laptop.
The smartphone should now experience a Download Mode. To enter the device in it, you have to simultaneously press and hold Home, Power and Volume Down, do that till a boot message pops up and press Volume Up.
Then do as follows: use your phone's USB cable to create a connection between the Galaxy Ace 3 I679 and the laptop. Once there's a blue sign brought forth by the Odin, it will be safe to move on. For this step, you need to add the firmware file to AP / PDA.
If the transfer's over, you have to tick F. Reset Time and Auto Reboot, then uncheck this box: Re-partition. The Android 4.3 KEUANC4 will end up on the Galaxy Ace 3 SCH-I679 only if you tap, next, "Start".
After this is done, you can wait till the flashing's done. Which will happen as soon as 12-14 minutes are up. Then you will see that your phone welcomes you with "Pass". After the device restarts, you need to have your smartphone disconnected from your notebook.
[sc name="banner-jos"]The way to fully immerse yourself in the new operating system is by doing as follows: find Settings and tap it, then locate About Phone and tap it, as well.
If you don't have such a good opinion of the list of new features, apps and such, you can get the former ROM restored. The NANDroid backup file will help you do that. Needless to say, this means that the upgrade procedure will be revoked from the handset.
You can run into problems while performing the update. If any of that happens, you will want to ask us questions. When you do, our guide has a comment section. Leave your comments and questions there!