Download APN Backup & Restore App to Save Internet Settings
Saving Internet settings is not as difficult nowadays as it was back in the day. That's mainly because there are far better tools to use in such situations. About such an instrument we will refer here today. It's called APN Backup & Restore.
So far, this app has delivered great results and no one's complained about it. Moreover, it won't cost money to . Let's see what it can do for us.
From the beginning we will tell you that the APN Backup & Restore app is not at all hard to use. And you don't have to worry about having Gingerbread or Honeycomb on your gadget, they're all compatible. This tool also works very well with Android 4.0 Ice Cream Sandwich.
From the moment you launch the app, you will be greeted by an interface that's very easy to use; also, it won't eat up too much space from the screen. Here's how it all works: you can save your actual carrier Internet settings and after modifying the ROM you can employ the app to restore the APN setting provided by carrier.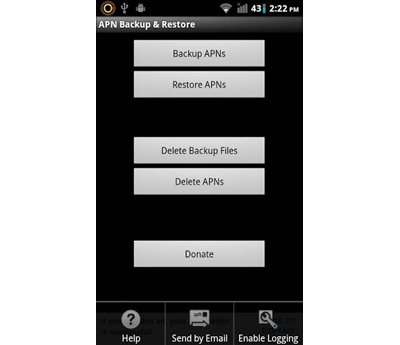 How to use it
In case your device runs the 4.0 operating system offered by Google, the APN Backup & Restore is going to need to be installed on your Android device. Here is how to do it.
Step 1: download this tool and place it in /sdcard/ApnBackupRestore.
Step two: should the files be saved in a different place, you should generate a full backup. After that you must wait until the application save the Internet settings. The carrier settings are exported in XML format, so you can use Excel, for example, to see the content of the file. To see whether or not things went well, do as follows:
– tap on Backup APNs;
– save the actual phone's settings;
– tap on Menu;
– opt for Send by email;
– select the email account you own;
– once selected, the saved APN date can be send and received via email.
Click Restore APNs; now opt for the latest save and launch the app. Your Internet settings will now be saved every time you'll look for something online with your smartphone.
The APN Backup & Restore App .