Flash Android 4.3 XXUENA1 on Galaxy Note 2 LTE GT-N7105
If you're unsure how to update Galaxy Note 2 LTE GT-N7105 to Android 4.3, you'll find a method in this post. Watch as we guide you through this procedure today.
After your smartphone gets the Jelly Bean 4.3, you will be able to customize it, make its battery last more and so on. All this thanks to XXUENA1, which is the latest firmware intended for your device. This tool is available for France (SFR) and we'll tell you how to flash it on your phone.
The first thing you should do: use, for this upgrade, the Galaxy Note 2 LTE N7105. If the smartphone you have is not this model, this update will brick it. Second: a rooted device will end up with an erased system partition. Root access will be revoked, but the important data will remain on your smartphone. Also, your device's internal and external SD cards won't be damaged.
Because the new firmware is equipped with an activated KIES logo, you can secure the update via the KIES software. This option will offer the intended result only if your handset's running a stock ROM. If you decide to perform the upgrade with our tutorial, your device won't require a stock ROM.
The new features that'll appear on your handset after the update are tweaks for the battery and the customization of your smartphone. You will also come across new apps. Needless to say, your phone won't deal with security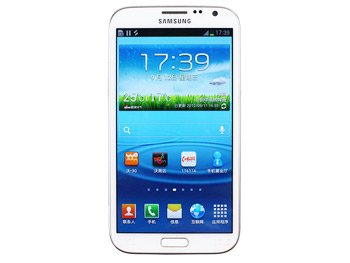 problems.
Prerequisites
The set of requirements that apply to your device comes next. According to them, you need to:
Step by step instructions
As for the steps which we'll use from now on: the first of them tells you to download some files on your notebook.
They are the Jelly Bean 4.3 XXUENA1 (the France SFR can be downloaded ) and Odin, available here. After you download them, make sure they're both saved on your laptop, then extract them with 7Zip or any other unzipping tool you have on your notebook.
Boot the Galaxy Note 2 LTE N7105 in Download Mode for the following step. This mode should be entered into like this: press and simultaneously hold down Home, Volume Down and Power, let go of all 3 of them when a screen with a warning is displayed and simply press Volume Up next.
As for the next step, you should go to the Odin, open it as Admin on the laptop and after that plug the handset to it. This should be done with the aid of the phone's very own USB cord.
When you're done, wait for the appearance of "Added!!" and an ID:COM box. If the message pops up and the box turns yellow, the connection is now established.
If not, you have to try some alternative actions. The first of them: use a USB port different to the one you used before. In case this also doesn't work, you can install the USB drivers once more on the notebook.
After the plugging becomes a success, you have to continue with these actions: tap BL, opt for a file with BL in the name, click on AP, opt for a file with AP in the name, tap CP, then opt for a file with CP in its name, tap CSC, choose a file which has CSC in the name, tap PIT and at the end choose a file with an extension called .pit.
Having just done the previous, you should activate Re-partition, F. Reset Time and Auto Reboot. The next thing to do is to tap "Start". After that, have some patience till the flashing of the XXUENA1 is over.
After a couple of minutes of waiting, your device will begin to restart. A green-colored "Pass" message will soon appear, which means the following: the smartphone can be unplugged from the laptop.
[sc name="banner-jos"]Go to your Galaxy Note 2 LTE GT-N7105, tap Settings and then tap this: About Phone. This is how you discover the whereabouts of the new firmware.
If you're done testing the new firmware and you aren't convinced by its features: the NANDroid backup created previously will retrieve the old ROM on your handset.
For questions and comments, refer to the section below.